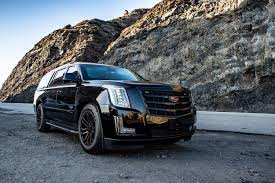 Take your love of your Cadillac to the next level - by camping in it! Yes, it is basically just sleeping in your car but you can definitely spice it up in order to have the full Cadillac camping experience. We created a quick and easy guide to sleeping in your Cadillac, just so when the open road beckons, you're ready to heed the call.

Raise Your Bed Off the Ground
It can get a little chilly on the open road, especially if your road trip is through the mountains or out in the desert. A warm sleeping bag is always a plus, but the real trick is to have a layer between your car bed and you.
In a perfect world, a custom-built platform would be perfect, but for an easier way you can bring an air mattress, camping pad, or even a yoga mat will change a cold and miserable one into a tolerable one.
Crack a Window
When you crack a window you start getting some airflow inside the car. This eliminates the condensation buildup on the inside of the windows, which helps dry out the car, meaning leaving the next day is as simple as can be. Some cold air might make its way in, but nothing your sleeping bag and warm clothes can't handle.
Make Curtains
For those who want to make a Cadillac like a second home, making your own set of curtains is your chance to set yourself apart. It also provides a sliver of privacy while driving.
Prevent nosy neighbors from disturbing your peace by setting up some small kitchen curtains on a bungee cord and placing them around your windows before you go to bed. You can also cut cardboard to cover the entire window to block out sunlight and any wayward onlookers. A little bit of privacy can go a long way.
Find a Way to Dry Clothes/Gear
Keeping your things dry on the road is often the only difference between an all-time excursion and a regrettable disaster. You need to find ways to hang your clothes, or prep to let clothes dry outside on the dashboard or back window. Maybe even crack a window when you get some speed going on the interstate and jam your clothes in the window for a quick dry at full speed.
Plan Out Parking
For those who aren't planning on heading to actual campgrounds, this is a crucial step. If you want to avoid waking up to a big ticket, research the overnight parking options on your route. Walmart sometimes allows overnight RV and trailer parking, as many truck stops also do.
Public lands are normally fair game for pulling off the road and taking a nap as well. There is even a Public Lands app, so you can find where to park easily.
Toilet Paper is a Must
We shouldn't have to say this, but there won't be any toilets nearby. Even if you stumble across one in the middle of nowhere, the toilet paper can't be great. Maybe even pack some baby wipes if you want to go the extra mile for yourself.
Set Up a Car Kitchen Area
This setup does not have to be fancy, but think about your cooking abilities realistically on the road - there won't be a Keurig everywhere you go. Simple stoves and propane burners are great and cheap for preparing anything and everything.
Cut down on waste by using a reusable dining setup and use your cooking pot as your dishwasher after dinner. Find a setup that you like and that works for you. It's a long road out there, and it's a whole lot more enjoyable on a full stomach.
Here at Sunset Cadillac of Bradenton, we know our customers genuinely love Cadillacs and driving Cadillacs - and so do we! Sunset Cadillac of Bradenton is here for all your Cadillac needs, no matter what you plan on doing with the car - camping or not. Stop by and visit us Monday - Sunday or give us a call at (941) 932-8852.