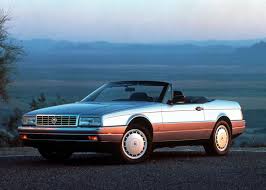 As the top brand of GM, Cadillac has never had many different models in their lineup. Their faithful customers have been somewhat limited given the price Cadillacs commanded. However, the volume was never their intended business concept. Unlike Chevrolet, who has had many forgotten models over the years. Given Cadillac's business strategy which is different from most American brands, even some of their recent models are now obscured. Let's go through some of these forgotten Caddy wonders.
1975-1976 Mirage
Let's start with a big one. The Cadillac Mirage is maybe the most interesting Cadillac ever produced. This refined DeVille coupe-derived pickup is like the long lost brother to El Camino that just appeared out of nowhere. Even the name is somewhat suggestive.
The reason you probably never heard about it is not just because of how scarce they were, but also that it was actually a third party Coupe DeVille conversion by Traditional Coach Works Ltd. based in Chatsworth, California. The very first model of the Mirage was bought by everyone's favorite stuntman, Evel Knievel. Only 204 Cadillac Mirages were built before the company dissolved in 1977.
2011-2013 CTS-V Wagon
The CTS-V has been at the top of Cadillac's performance range for a while now. The mighty 4-door sedan gives over 600 horsepower and over 600 lb-ft of torque thanks to the supercharged 6.2L LT4 V8 of the Corvette. The Wagon is an extremely rare 3-year offering that was very quickly forgotten.
This is in part because only 395, 575, and 416 were produced - only 1,386 in total. That only adds up to 7% of the total production of the CTS-V. Even though Cadillac never intended for the model itself to become a best-seller, you have to admit it lacked another digit or so in order for it to not have been forgotten nearly 5 years after it was discontinued. These cars were also capable of hitting 60 mph in 4.0 seconds and 12 second quarter miles. The only issue with the car selling was that it never had a niche.
1987-1993 Allanté
Allanté was the first roadster Cadillac offered, almost two decades before the XLR. It was a bit of an oddball car that was also assembled in a very peculiar way. Because the nearby body supplier was closed and Cadillac commissioned Pininfarina for body work, the bodies for the Allanté were flown in from Italy. They were on specially designed Boeing 747's that accommodate 56 bodies per flight.
The Allanté never sold the way Cadillac anticipated they would. Of planned 6,000 models per year, Cadillac only sold 21,430 total units. That's just around two times less than what was originally expected.

Here at Sunset Cadillac of Sarasota, we have pride in the history of Cadillac. And while we don't have these rare models at our dealership, we would love to see you in a Cadillac. Simply visit us Monday - Saturday or check out our online inventory.