The Cadillac is a luxury brand known for its style, elegance, and innovation. In Hollywood, this classic automobile reigns as a supreme symbol of sophistication on the silver screen. Many filmmakers have used these iconic cars in the most unforgettable movie moments in cinematic history.
Today, you'll learn about our five favorite Cadillac moments on the silver screen. If you're in the mood for a new car, you don't have to admire this regal vehicle from afar. You can make your dreams a reality by purchasing a Cadillac as your next vehicle.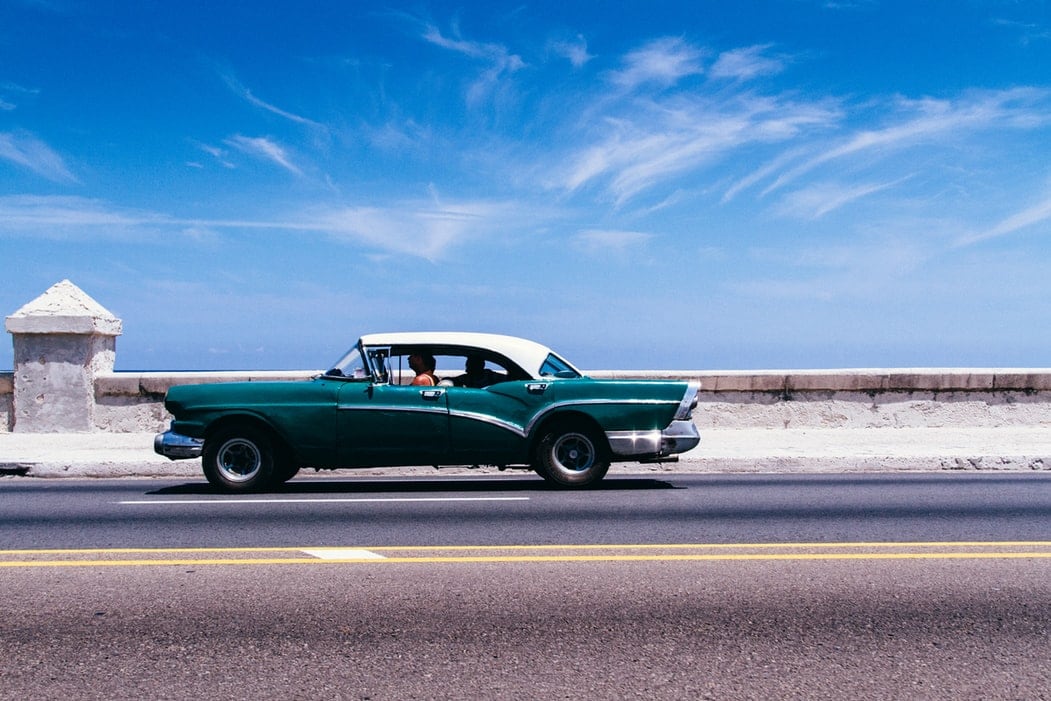 1. Once Upon a Time…In Hollywood (2019)
The Cadillac DeVille steals the show in this Oscar-nominated winning movie starring Leonardo DiCaprio and Brad Pitt. The drama-comedy takes place during the last days of Hollywood's Golden Age.
Quentin Tarantino is known for his obsession with details. He works diligently to create realistic scenes for his blockbuster hits. In his movies, Tarantino only uses authentic props from their original era. For example, the famous director searched for real Red Apple Cigarettes that his characters would have smoked in films such as Pulp Fiction, From Dusk Till Dawn, Django Unchained, and his current masterpiece.
In Once Upon a Time...in Hollywood, Tarantino wanted to recreate 1960s Hollywood. He refused to use CGI effects for this set. Instead, he transformed Hollywood Boulevard storefronts and parked classic cars in front of them.
Tarantino selected the iconic 1966 Cadillac DeVille for the hero car. This classic vehicle is the same one used in the film director's 1992 movie Reservoir Dogs. Actor Michael Madsen is its current owner. He kept the car in pristine condition after Reservoir Dog's cinematic release.
Steven Butcher, automobile coordinator for Once Upon a Time…in Hollywood, spruced up the car by giving it a creamy yellow paint job and new upholstery. He also made several replica back-ups of the Cadillac DeVille to use in shooting.
Tarantino originally wanted DiCaprio's character, Rick Dalton, to drive a 1959 Cadillac convertible, but changed his mind when he learned the vehicle would cost almost $100,000. He also believed it wouldn't make sense for a successful Hollywood actor to drive a 10-year-old car. Tarantino and Butcher decided that the iconic 1966 Cadillac DeVille would be a better choice.
2. True Romance (1993)
The eye-catching Cadillac Fleetwood Eldorado took center stage in True Romance. Quentin Tarantino and Tony Scott produced this 1990s romantic crime cult classic. It stars Christian Slater, Patricia Arquette, and Gary Oldman.
In the movie, a man hires an escort named Alabama Whitman (Arquette) to seduce his employee, Clarence Worley (Slater), as a birthday gift. The two end up falling in love and marrying.
After a vision, Worley decides to kill Drexl, Alabama's pimp. The white Jamaican was working for mobster and drug dealer, Blue Lou Boyle. Worley snatches several bags, believing they belong to Alabama. He doesn't realize they contain huge bags of cocaine.
After Drexl's death, the newlyweds go on the run. The couple visits the house of Clarence's estranged father, Clifford. His Dad is a security officer and former policeman. He uses his connections to get information about the investigation into Drexl's death. Clifford tells his son that the police believe that Drexl's death is gang-related.
Don Vincenzo Coccotti, a consigliere of Boyle's, tracks the couple to Clifford's house. He barely misses the pair. Coccotti pumps Clifford's father for information about the couple's whereabouts, but he's not successful. He shoots and kills Clifford, and finds Clarence's Los Angeles address on a note hanging from the refrigerator.
The couple flees to the City of Angels, in a stylish, pink 1974 Cadillac Fleetwood Eldorado. The classic car is classy and flashy, although it's not a great way to stay incognito when you're running away from the mob.
Tarantino's casting director spotted the car cruising down Hollywood Boulevard. He immediately contacted the owner and bought the beauty on the spot. The regal vehicle was shipped to Detroit for filming. After shooting, he allowed Patricia Arquette to keep the car. Today, the True Romance Pink Cadillac has a new owner who gave the vehicle a spanking-new purple paint job. The automobile now stars in real-life romantic adventures and weddings.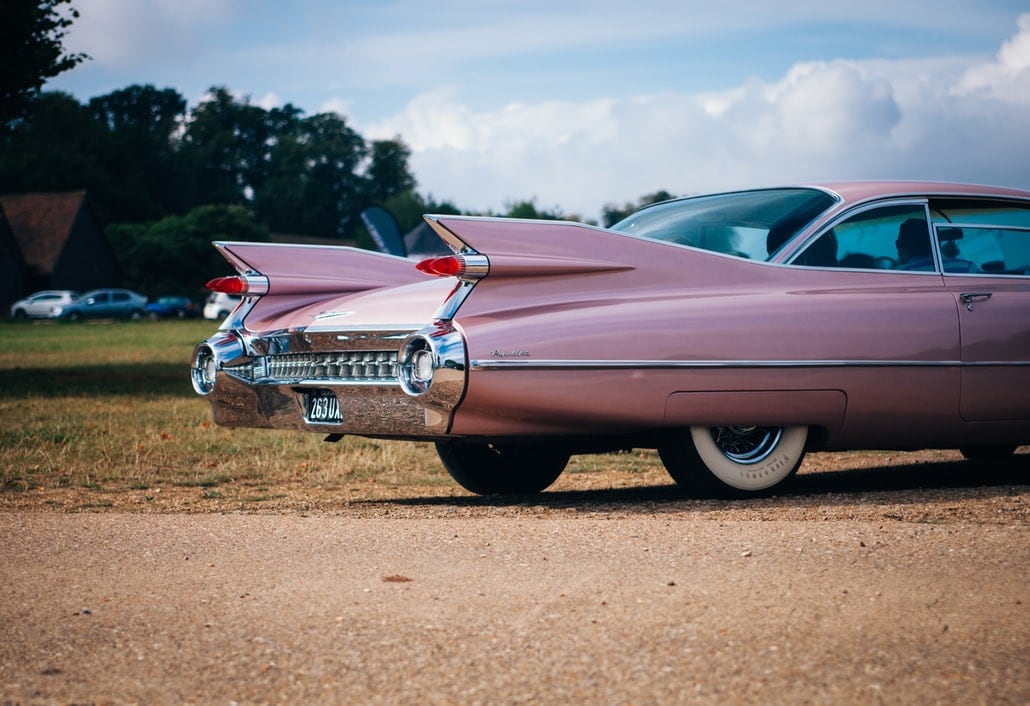 3. The Big Wheel (1949)
The Big Wheel is a fast-paced adventure starring legendary actor Mickey Rooney. This classic Hollywood film, released in 1949, follows the adventures of auto mechanic Billy Coy. The lead character aspires to become a famous motorsport driver, like his father, Cannonball Coy, who died in an accident at the Indianapolis 500.
Billy travels to Carrell, California and is hired by his father's former mechanic, Arthur "Red" Stanley. Billy believes he's worthy enough to carry his father's legacy as a racecar driver in the Indianapolis 500. The action-packed movie features heart-stopping moments on the race track. The star car was Coy's immaculate 1941 Cadillac series 62 convertible coupe.
4. North by Northwest (1959)
Alfred Hitchcock, the master of suspense, used the elegant Cadillac in his 1959 masterpiece North by Northwest. In the movie, Cary Grant plays a Madison Avenue advertising executive named Roger Thornhill. Two criminals mistake Thornhill for a gentleman named George Kaplan after they see him summon a waiter at a bar. They believe Thornhill is a government agent and kidnap him at the start of the film. They bring him to the Long Island home of Lester Townsend and interrogate him by spy Philip Vandamm.
Although Thornhill denies being a spy, Vandamm doesn't believe him. He ordered his henchmen to kill the advertising executive, then stage it as a drunk driving accident. Thornhill survives the murder attempt, but the men still pursue him. Thornhill flees to find the real Kaplan, but he doesn't exist. A government agency, who created the imaginary persona "George Kaplan", realize these criminals are pursuing Kaplan. They don't interfere with the pursuit out of fear they'll compromise the operation.
The 1958 Cadillac Fleetwood Series played a major role within the movie. The kidnappers used this 1958 Fleetwood Series 75 to transport Thornhill to the mansion.
5. The Godfather (1972)
Francis Ford Coppola's The Godfather is one of the most cinematically appealing mobster movies of all time. The movie, starring Marlo Brando and Al Pacino, is based on the best-selling novel by Mario Puzo. It chronicles the life of a mob family under its leader, Vito Corleone (Brando), and the transformation of his son Michael Corleone into a mafia criminal mastermind.
The American Film Institute ranks gangster movies as the second-greatest film in American cinema, behind Citizen Kane. Ford features Cadillacs in many scenes within the movie, including the elegant, black 1940 Fleetwood Series that Don Corleone drives. The film also features a fleet of sedans and limos that mafia members use in an iconic scene after Sonny Corleone's death. Coppolla also uses three Cadillacs in The Godfather's funeral procession scene. When Michael returns from Sicily to assume power in New York, he also uses the Cadillac Series 75.
If you're in the market for a new vehicle, stop by Sunset Cadillac at Bradenton to check out our inventory of new and previously owned Cadillacs. Don't hesitate to give us a call at (941) 932-8852 or visit us at 4780 14th St. Monday - Saturday.