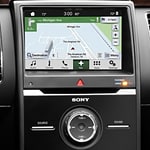 The infotainment system in a car can do more than control your radio. Many drivers are not sure of what all that theirs can do. At Sunset Cadillac of Bradenton, we want to highlight some of the common features found in infotainment systems.
At the heart of most infotainment systems is a touchscreen. You can choose to use only touch controls or use a combination of the touchscreen and traditional buttons in most cases. You can enjoy all of the technology that your vehicle offers without being distracted from the road, thanks to the centrally located touchscreen with easy-to-use menus.
As far as features go, the infotainment system can help you set the perfect temperature in your car. It can also give you access to things like HD and satellite radio for your music-listening pleasure around Bradenton, FL. When a vehicle is equipped with Wi-Fi, it can be controlled on the infotainment system as well.