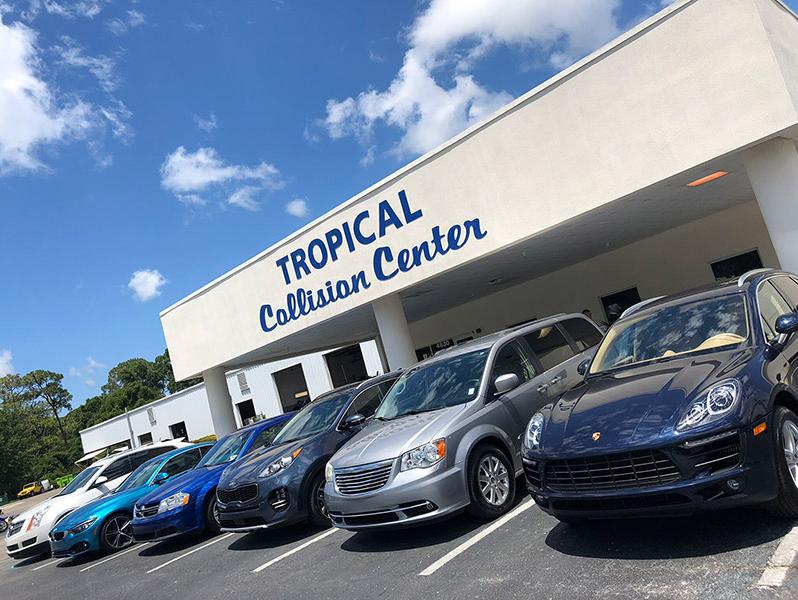 Hours: Monday - Friday 7:30am - 5:00pm 
Call us with any questions about our Body Shop Services- 941-755-8922 
Text us with any questions about our Body Shop Services- 941-254-1898
Upman's Towing 941-365-7084 is the preferred towing company of Sunset Collision Center of Bradenton.
On average, the purchase of a vehicle is the second largest investment you will make. We hope you never need our assistance, but if you do we guarantee complete satisfaction at Sunset Collision Center of Bradenton. All repairs that are completed at our facility include a free car wash and interior cleaning, not to mention that any minor scratches are brush-touched with no charge. That's right, complimentary! We hope that you never have to use our collision center, but if you do please give us the opportunity to discuss your options with you at no cost or obligation.
HOURS
Here at Sunset Collision Center of Bradenton, we are available to assist you in your time of need Monday through Friday from 7:30am to 5:00pm. You can give us a call and one of our trained personnel can assist you, or email us with any questions at tgillespie@sunsetautogroup.com  
LOCATION
We are conveniently located in the middle of Bradenton just south of Cortez Rd on 14th Street W (US41), directly behind Sunset Cadillac Of Bradenton.
JEFF B.
5.0 star rating 7/12/2019
From estimate to finished delivery quality and customer satisfaction was their goal. They were knowledge of my kia parts and fixed damage that was not visible to insure safety.
'new' car was returned including interior and exterior cleaning. 
Great service from Manager Tom and Theresa. 
DAWN MCDONALD
Local Guide · 70 reviews
A month ago-
Brought 2 vehicles there for repair. Theresa really nice. Service was great. Very happy with vehicles when returned. 2 thumbs up
TECHNOLOGY
Our collision facility has state of the art technology that allows us to correct and guarantee that your unibody or full frame vehicle is restored to the exact dimensions that your manufacturer requires. You ask, how can we do that? The manufacturing process of the modern vehicle is done by robotic and computer operated machines. Those machines are programmed and operated by the same technology that we have here at our Collision Center.
NC G.
5.0 star rating 6/6/2019
Simply the best shop of any kind I've ever been to. Stable staff. High competence level on all makes/models. Clean facility means a well organized management process. Took my $100K Benz to these guys after dealership fouled my vehicle up. Highly recommend.
JULIE SEEBECK
8 reviews
A month ago-
Teresa, Tom and the team at Sunset Collision are great! They have fixed cars for me, my mother-in-law, father-in-law, and my sister-in law!! Always friendly, fast as can be service, and accommodating to your time/schedule.
INSURANCE
We specialize in all makes and models of vehicles from exotic sports vehicles to economy cars. Sunset Cadillac of Bradenton is a preferred insurance partner with:
Allstate
AAA 
Esurance
The Hartford
Liberty Mutual 
Safeco
State Farm 
Travelers 
Florida Farm Bureau
Cincinnati Insurance
Ameriprise
Infinity/Kemper
And we gladly work with and accept all other carriers.  We will gladly assist you in the sometimes difficult insurance process. Several body shop office personnel are former licensed Florida all-lines adjusters and can offer any assistance which may speed along the repair process of your damaged vehicle.
MR. TP
14 reviews · 3 photos
A month ago-
This place truly deserves all their stars. My wife was in a rear end collision and had $12,000 worth of damage to our Cadillac. I called Dimmitt thinking that they would take care of us, but they were backed up and wouldn't even give us a date to bring on our car.
We called this place and from the moment we talked to Tom, we knew we were in good hands. He was a true professional. His phone skills, email skills, and people skills in person are top notch. We were willing to drive an hour each direction passing multiple other locations just to take it here because we trusted what he said over the phone. 
Even though it was an extensive repair, They still hit their delivery date. We were thrilled that everything they did from the service, repair, and to arranging the car rental. The one thing (and it is a small thing) we would suggest Is to better cover the interior of the car while it is being worked on. When we got back into our car there was a lot of dust in the interior. I cleaned it up and she was good as new. The outside and the repairs looked amazing and obviously you can't tell it was ever in an accident. Truly impressed with the hospitality, service, know-how of these guys and their technicians. I'm picky...and I was Fully satisfied. Go here for True Professionalism. Great job and well done! 
BERNIE MOLTCHAN
3 reviews
I typically do not post reviews, but in the case of this business, felt it was necessary. I have used them twice in the past two years, and both times they earned an A+ rating in my book. They are professional, competitive, quality conscious, and totally customer oriented (the secret to repeat business!).
Special Kudos to Theresa for successfully managing the customer interface and making the process painless.
Sales
Monday

9:00 am - 5:00 pm

Tuesday

9:00 am - 6:00 pm

Wednesday

9:00 am - 6:00 pm

Thursday

9:00 am - 6:00 pm

Friday

9:00 am - 6:00 pm

Saturday

9:00 am - 5:00 pm

Sunday

Closed
Body Shop
Monday

Closed

Tuesday

7:30 am - 5:00 pm

Wednesday

7:30 am - 5:00 pm

Thursday

7:30 am - 5:00 pm

Friday

7:30 am - 5:00 pm

Saturday

Closed

Sunday

Closed
Service
Monday

Closed

Tuesday

7:30 am - 5:30 pm

Wednesday

7:30 am - 5:30 pm

Thursday

7:30 am - 5:30 pm

Friday

7:30 am - 5:00 pm

Saturday

8:00 am - 2:00 pm

Sunday

Closed