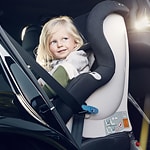 Properly installing a child safety seat in your vehicle is essential as if the seat is not secured in the right way you can put your child at risk. Before starting, read the manual for your safety seat and your vehicle. Your vehicle manual will detail the location where the anchors and tethers are so that you can secure the child seat to them.
Once you have decided where to place the child seat, choose whether to secure the seat through the anchors and tethers or through the back seat safety belts. Don't use both, but choose the method that better secures the child seat.
Test the seat to determine if it moves less than an inch. If it moves more than an inch, you need to re-secure the seat. If you need more help with securing your child safety seats, Sunset Cadillac of Bradenton in Bradenton, FL staff can help or send you to an installation event.