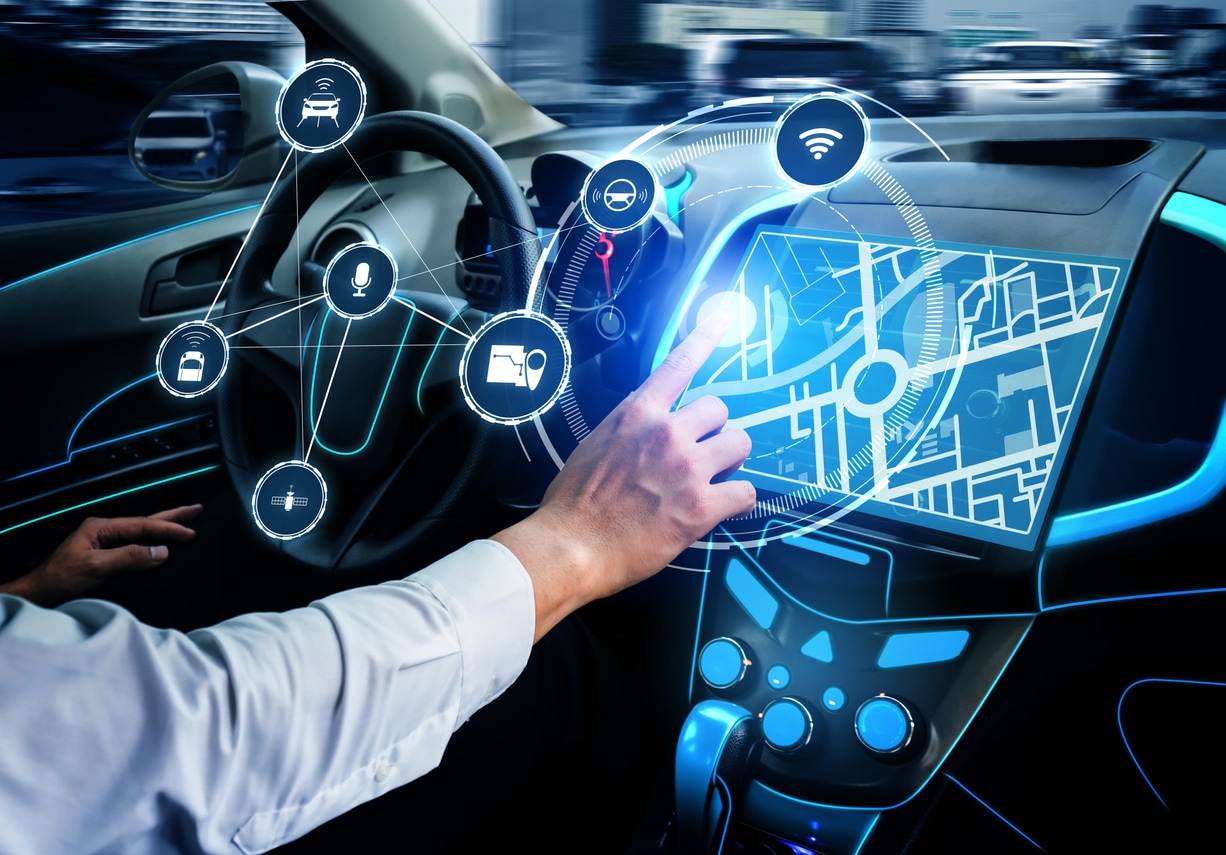 When you think of the Cadillac Escalade, you probably are envisioning opulence and comfort. You would be correct. So, how, then, do you improve on the classic Cadillac styling and luxurious interiors? You bump up the technology factor, just as Cadillac has done. Cadillac has not only improved technology in the new 2021 Escalade, but they have also introduced some groundbreaking tech.
Curved OLED 38-Inch Display
Similar to what you would get with a 4K television, the Cadillac Escalade has introduced a never-before-seen 38-inch curved display with pixel quality that is comparable to that of the best home entertainment system. The curved display reduces driver distraction by breaking it into three sections of OLED (Organic Light Emitting Diode) screens. There is a 7.2-inch driver information panel on the left, a center cluster display measuring 14.2 inches, and a 16.9 infotainment screen on the right. This technology offers bold imagery and the largest color range available today in any automobile.
Super Cruise With the 2021 Cadillac Escalade
Super Cruise brings the future into the present with the 2021 Cadillac Escalade. This is the first hands-free driver assistance technology available for over 200,000 miles of compatible highways. Now, the Escalade offers this with additional new enhancements. Lane-Change-On-Demand as well as other advanced driver monitoring technology, offer convenience and safety. Motor Trend calls Super Cruise "arguably the best driver-assist suite in the industry" so this is a feature not to be missed.
Rear Seat Entertainment
Your rear-seat passengers have entertainment with the twin 12.6-inch displays. They can also help get you to your destination since they have access to navigational functions Now, you can suggest routes or destinations to the front navigation screen for the driver to accept or reject.
AKG Sound System With the 2021 Cadillac Escalade
The 2021 Cadillac Escalade is the first and only vehicle to feature the Austrian audio sound system, AKG. The standard system will boast 19 speakers, a subwoofer, and is powered by a 14 channel amplifier. An upgraded system features 36 speakers and even offers a "Conversation Enhancement" mode that allows passenger voices to be captured and reproduced through the audio system. Thus, front and rear passengers can converse at a comfortable level.
Navigation/Trailering System
The 2021 Cadillac Escalade comes with an optional augmented-reality navigation system that allows drivers to understand and follow route suggestions or directions. It uses live street views and when used in conjunction with Surround Vision, it provides a bird's eye view of the scene and assists with parking. An optional trailering integration package exists with up to nine camera views.
Smoother Ride
Though you may not think about a smoother ride as being a technology improvement, then you haven't heard about Escalade's Magnetic Ride Control, Air Ride Adaptive Suspension, and Electronic Limited Slip Differential. Combined, Escalade drivers will have the smoothest drive. Indeed, the ultrafast suspension technology uses sensors to read the road and change the shocks immediately to improve handling.
Safety
The 2021 Cadillac Escalade is intent on keeping you and your passengers safe and secure. In addition to On-Star, connectivity for you and your passengers, and the upgraded curved OLED display, infrared technology provides a clearer night view of pedestrians or animals on the road ahead of you.
Learn More About the 2021 Cadillac Escalade
The 2021 Cadillac Escalade offers all the top-of-the-line options that you want in a luxury SUV. It checks all the boxes in beauty, safety, comfort, and technology. Indeed, our staff at Sunset Cadillac of Bradenton are Cadillac experts and can answer your questions and get you started with the Cadillac of your dreams. Contact us at (941) 932-8852 or visit us at 4780 14th St. Monday - Saturday.