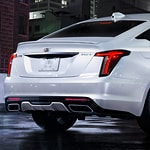 The CT5 is Cadillac's mid-size luxury sedan. Just like all Cadillacs, it offers stellar performance, an upscale interior, and impeccable craftsmanship. It also has a stylish and classy exterior. Speaking of the exterior, here at Sunset Cadillac of Bradenton in Bradenton, FL, we love the many great exterior features of the Cadillac CT5.
The exterior features aren't just about the looks. They're also about performance. The body shape may look elegant, but it's also created with advanced aerodynamics in mind. This means better performance and better efficiency. This sedan was also designed with a performance stance. This means more stability as the Cadillac CT5 stays planted on the road.
The LED headlamps with Cadillac's signature styling help this sedan to stand out on the road. It also features exquisite alloy wheels that are designed with both form and function in mind. The Cadillac CT5 is a perfect blend of both aesthetics and engineering.