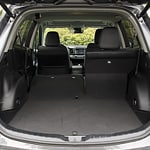 Crossovers have a dynamic, unibody frame that makes them fun to drive and easy to handle. Although they're larger than cars and often come with third-row seating, they're also far lighter than SUVs and significantly more efficient. At Sunset Cadillac of Bradenton, we're sharing three reasons why Bradenton, FL drivers should consider buying these vehicles.
A Crossover Can Have Surprising Towing and Hauling Capabilities
Depending upon which model you choose, you don't necessarily have to forgo impressive towing and hauling capabilities. In fact, some crossovers are rated for towing as much as 5,400 pounds. Best of all, as these vehicles become ever more popular among discerning shoppers, they're also becoming increasingly rich in first-class features and amenities.
Get the Space You Need in a Stylish Package
Crossovers are a common choice among large and growing households. They offer plenty of room for everyone to spread out. However, despite carrying up to eight passengers and offering ample room for cargo, crossovers are significantly more sporty and stylish than the average minivan.