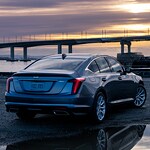 If you're looking for a luxury sedan with all the bells and whistles, the Cadillac CT5 is worth a look. This car comes packed with features that will make your driving experience unforgettable. In this blog post, we'll take a closer look at some of the interior features that make this car so special.
- Leather Seats: The CT5 comes standard with leather seats that are both comfortable and stylish. You'll love sinking into these seats after a long day at work or a long road trip.

- Infotainment System: The infotainment system in the CT5 is one of the best on the market. It's easy to use and comes with all the features you could ever want. You'll never be bored on a long drive again!

- Storage Space: The CT5 has plenty of storage space for all your belongings. You won't have to worry about fitting everything into this car.