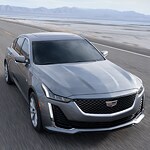 When you visit SUNSET CADILLAC OF BRADENTON, you'll have the chance to explore the 2022 Cadillac CT5 firsthand. Bradenton drivers are sure to love its rich, comfortable interior and luxurious design. With premium enhancements from end to end, this stunning vehicle has a number of eye-catching exterior features. Following are two of them.
Turn Heads With Signature Vertical Lighting
The 2022 Cadillac CT5 has signature vertical lighting as standard. This vehicle's vibrant LED taillights and headlights make a bold statement. They're sleek, efficient, and on par with the sophisticated styling of this brand.
Low-Profile Tires and Head-Turning Rims
At every trim level, drivers get low-profile tires and aesthetically beautiful rims. Luxury 18-inch alloy rims with a bright silver finish come standard. There's also available premium luxury rims that come with a Manoogian silver finish. Drivers who want a sporty look for the 2022 Cadillac CT5 can choose 19-inch alloy rims with a pearl nickel finish.