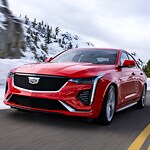 If you're looking for a stylish and luxurious car that's perfect for both everyday driving and long road trips, the Cadillac CT4 is definitely worth considering. This vehicle is packed with all sorts of great features, from its comfortable interior to its impressive performance specs.
Seats
The car's seats are upholstered in premium leather and are both heated and cooled. Additionally, they're very spacious and comfortable, perfect for long drives. The front seats also have massaging functions, which is a nice touch.
Infotainment System
The 2022 Cadillac CT4 comes with an updated infotainment system that's much more user-friendly than previous versions. It's very responsive and has a sleek, modern look. Additionally, it includes built-in navigation and Apple CarPlay/Android Auto capability.
Cargo space
The CT4 has a decent amount of cargo space for its size. The trunk is spacious and there's also additional storage space under the back seats.